Christian Gutierrez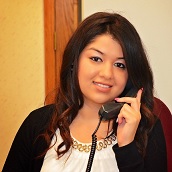 What is your job role at Family Service Association?
I'm a part-time receptionist & part time SASS (Screening Assessment and Support Service) Administrative Assistant.
Why did you choose Family Service Association of Greater Elgin Area?
I chose FSA because it is a great agency that provides great programs to support families during the most challenging moments in their life, teaching them necessary skills to overcome their problems.
If you had to give a 2-minute elevator speech on what you do every day, what would you say?
I greet our clients in person or on the telephone, schedule client appointments with our psychiatrist, answer incoming calls & transfer them as required. I register clients and obtain insurance information, co-pays & payments. I also ensure that we have all client information updated.
What is your favorite part of your job?
The favorite part of my job is being able to interact with our clients on a daily basis, and learn new things every day.
Who has had the most influence on your work career?
I would say that my family has a tremendous influence in the decisions that I make on my job opportunities because they are very supportive.
What is your favorite quote?
"Difficult roads often lead to beautiful destinations."
If you could pick a superpower what would it be?
I would pick the healing power to help the people who are suffering from very serious illness like cancer, Alzheimer's, etc.…
What is your favorite food?
What I enjoy to eat the most is pasta, my favorite one is Chicken Alfredo Pasta.
What is the most interesting place that you've visited?
I have visited a few places but I would say that the city where I am from, which is Guanajuato City. I just love it is a place that is rich in history from the mummy museum to their mines, to the Alley of the kiss etc… Guanajuato city has a lot to offer!