Roxana Mendez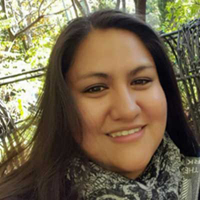 What is your job role at Family Service Association?
I'm a part time bilingual therapist
Why did you choose Family Service Association of Greater Elgin Area?
I chose FSA because it is an organization that provides quality services to families in my community. I have lived in the area for a long time and I have always had an interest in being able give back.
If you had to give a 2-minute elevator speech on what you do every day, what would you say?
I provide clinical therapy services to individuals, primarily children and adolescents, that are suffering from mental health related symptoms. I help with developing techniques to reduce or eliminate symptoms from their daily lives, provide hopefulness and empower them to improve self-confidence. I find that strengthening the ways families relate to each other also improves well being. It is also beneficial to connect my clients and their families to appropriate community resources and always make sure to have that information available.
What is the best part of working in the mental health field?
This is a field where there is constant research and interventions are always being updated or strengthened. I like being able to learn different strategies and learn about their effectiveness. I also enjoy getting perspectives from other clinicians in the field.
What is your favorite part of your job?
I would have to say that the best part is being able to work with a diverse population and being able to learn new things all the time. I find that as much as I am able to assist my clients I am always able to learn things about myself as a clinician.
Who has had the most influence on your work career?
My family, I know it sounds redundant, but my family has always motivated me to do well in any field that I would have decided to pursue.
What is your favorite quote?
"Today was good. Today was fun. Tomorrow is another one", Dr. Seuss
People would be surprised if they knew…
People would be surprised if they knew I play the violin and understand French because I do not practice it enough to be fluent.
If you could pick a superpower what would it be?
Be able to multiply myself.
What is your favorite food?
Enchiladas de mole
What is thing you have ever eaten?
This would depend on the norm for you is but I feel that the weirdest thing I have eaten is tripe tacos.
What is the most interesting place that you've visited?
Teotihuacan, Mexico. There was a ton a history that makes up a part of the country that my parents are from and to visit something that they have pride in has been very important to me.